Business General Liability
Best Contractor & Small Business Insurance Quotes General liability insurance protects your business from another person or business's claims of bodily injury, associated medical costs and damage to property. Some examples of what could be covered are below:
General liability insurance
will not protect you from everything. For example General liability will not cover you against claims of negligence, even if it isn't you or your business' fault. Some people buy other business liability insurance along with general liability
Business General Liability Insurance Cost
We live in a litigious society and even if you think you're unlikely to face a claim, getting insurance is a wise investment that doesn't cost much annual premiums range from $750 to $2,000 depending on your line of business and coverage needs. That's certainly a lot less than the thousands, if not millions, of dollars you may need to spend fighting your case in court.
Premiums for liability insurance vary widely depending on the size of the business (in square footage and/or payroll), the risks involved and the exact type of coverage. A commercial liability policy for a home-based child care business runs $350-$700 or more a year, according to the National Network for Child Care[1] . Professional liability coverage for a photographer runs $1,000-$1,500 annually, according to the Professional Photographers of America.
Business General Liability Insurance Quote
The coverage you need depends on the type of business you are in and the perceived risk associated with it. For example, a building contractor will need more coverage than a web designer or consultant. Your business location is also another factor that comes into play. For example, some states tend to award more in damages to plaintiffs claiming personal injury than others. Talk to a licensed insurance broker for advice on this before you rush out and buy a policy.
Benefits of General Liability, Infographic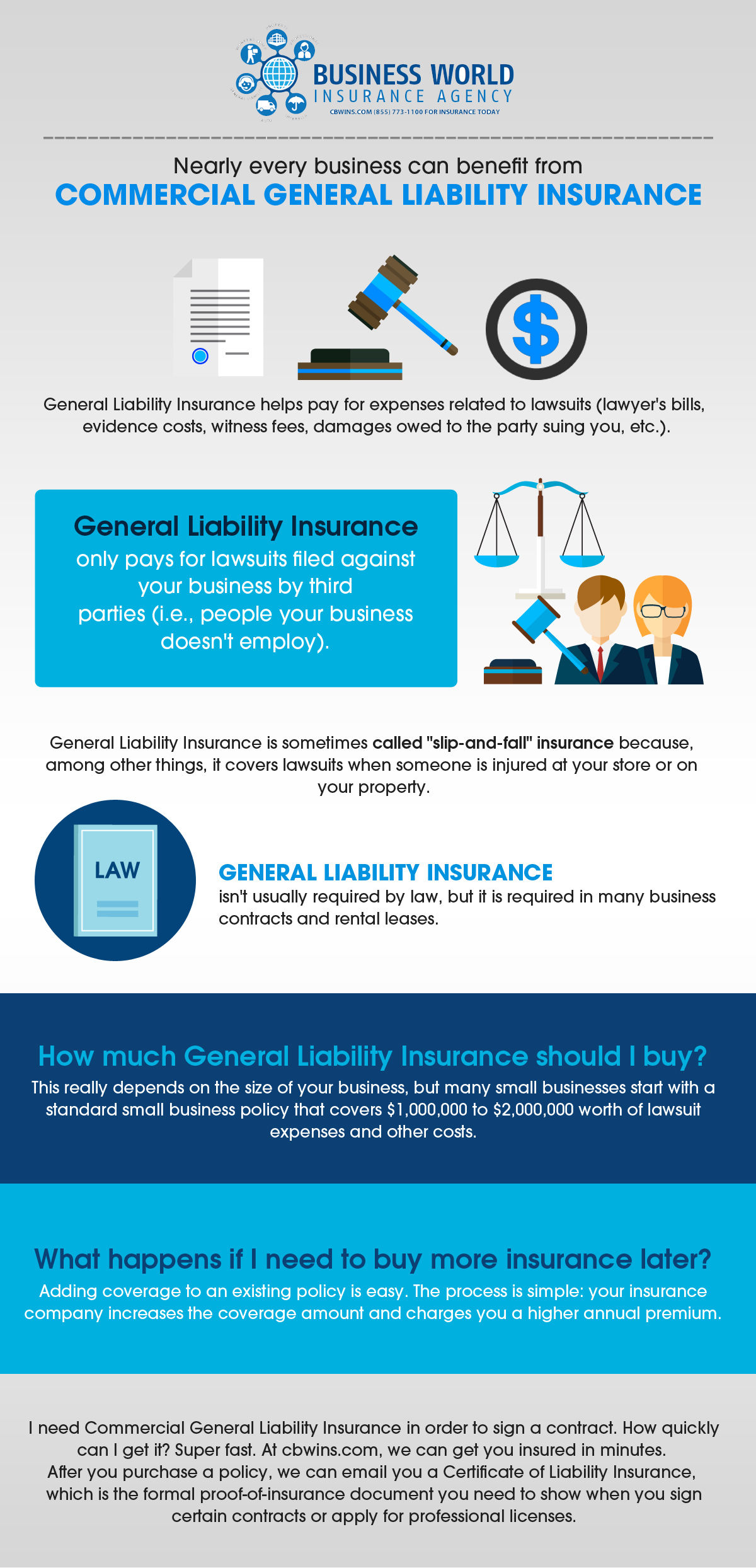 Business General Liability Insurance Online
Our contractors insurance could provide you with a
Business Owners Policy
(BOP) with general liability insurance, workers' compensation insurance, and commercial auto insurance all in one place! This helps to reduce the hassle of dealing with multiple companies and contacts to purchase and maintain your contractors insurance.
General liability insurance, or GL, is a fundamental part of contractors insurance. It could provide protection against lawsuits and other financial liabilities that result from things like accidents or other mishaps.
General liability insurance is often bundled with a variety of other coverages in a BOP. But as a contractor, you might not need all these coverage's.
Business General Liability Insurance Companies
Ready to compare the cost of General Liability Insurance policies for your business? General liability insurance is essential to maintaining the financial health of any well-run business.
I am so glad I found this office. They are very professional, easy going and explain everything clearly. I was having a hard time looking for reliable insurance to cover my business for a while. Thanks to the office staff, I was able to cover everything I needed and secured my contact the same day!! Thanks again. Weight off my shoulders!Kimberly M

Professional team, great quotes and rates, fast respond. This is what I need for my insurance. Thank you, guys!Alex S.

We feel very blessed to have these guys back us up during our troubled days. Everyone we worked with was knowledgeable and always shows a great willingness to help and will give you the best personal attention and care, with honesty. I am very pleased with the service they provided to us.Juliana B.